Fohere
Regular price
$199.99 USD
Sale price
$99.99 USD
Unit price
per
Sale
Sold out
🎂【Double Dough Hook】Compared with the single-hook kitchen machine, our patented double-hook kitchen machine can directly simulate the kneading of the dough with human hands, so that it can produce satisfactory dough at double the speed and free your hands. It has an ergonomic design, and also benefits from a compact and lightweight design, which is comfortable to operate. People who have difficulty holding certain handles and heavy objects, such as old women who cook for a long time.

🍦【Powerful Electric Mixer & Quiet Deisgn】 Pure copper motor and sturdy ABS housing make the process quick and thorough. Built-in chip sensor temperature automatically shut down when overheating, safety and security. American standard plug, wire length about 1.05 m. Lower noise (≤70dB), quieter than other traditional blenders on the market.

🍰【6+Pulse Speed】With handy 6-speed control access to multipurpose and a variety of recipes. The electric food mixer using for mixing bread dough, thick batters, meringues, and whipping cream, 1-3 speeds are great for dough hook(Heavy mixtures-Bread, Pizza, Spaghetti), and 1-4 speeds are great for beater (Medium-heavy mixtures-Salad, Cookie, Crepes), 5-6 speeds great for a whisk (Light mixtures-Cream, Egg, Cake, Sauces) Pulse can reach the highest speed in a second, used to beat egg whites.

🎂【Multiple Attachments】 Includes a whisk, dough hook, and flat beater to let you create delicious cake mixtures, cookie dough, pizza dough, bread, cupcake batter, mashed potatoes, frosting, and more. Come with a detachable splash guard with hole to convenient add more ingredients during the process.

🍦【Large Capacity 5.5Qt Bowl & Smart Design】The 5.5 Qt stainless steel mixing bowl with handle is easy to clean after use and easy to use and clean for making cake, bread, biscuit, pastry, muffin and waffles. Features a head that tilts backward and comes with a standard safety lock feature to ensure it doesn't power up unless all components are securely fastened. Silicone suction cups on the bottom keep the machine in place when working.
View full details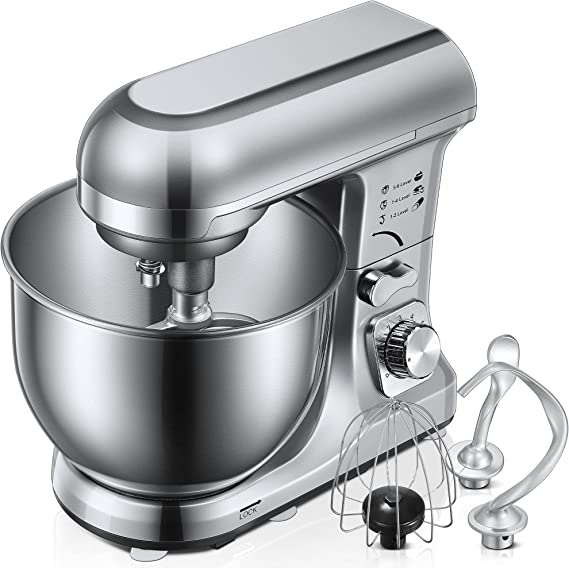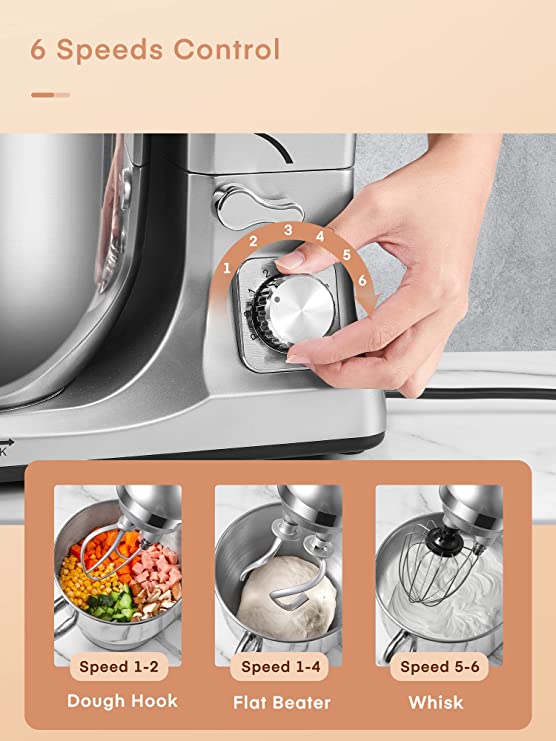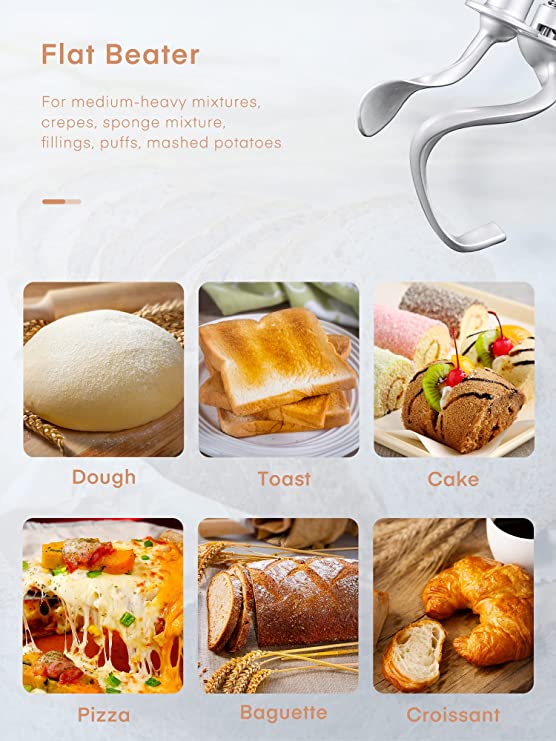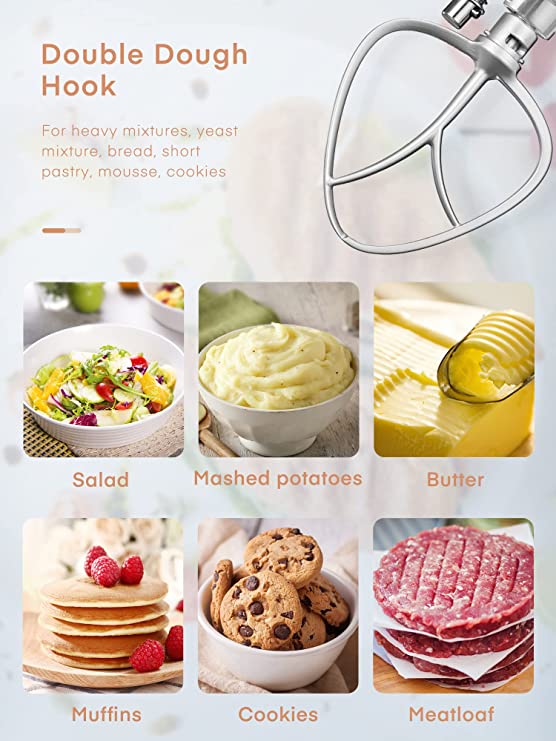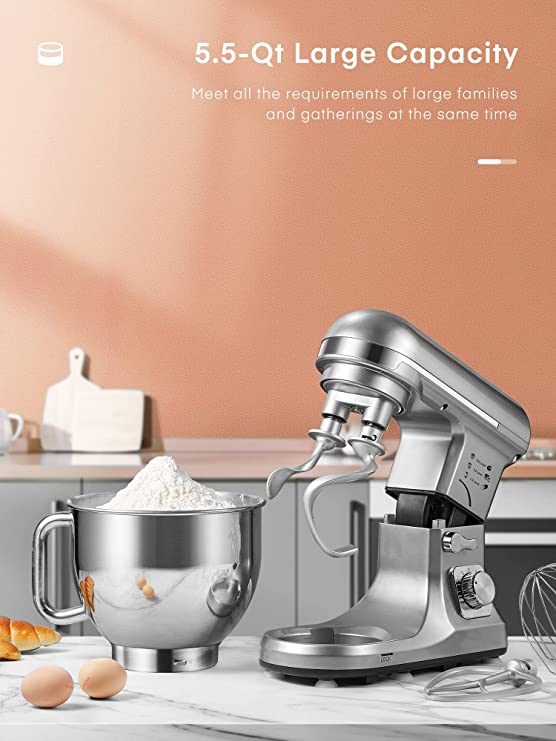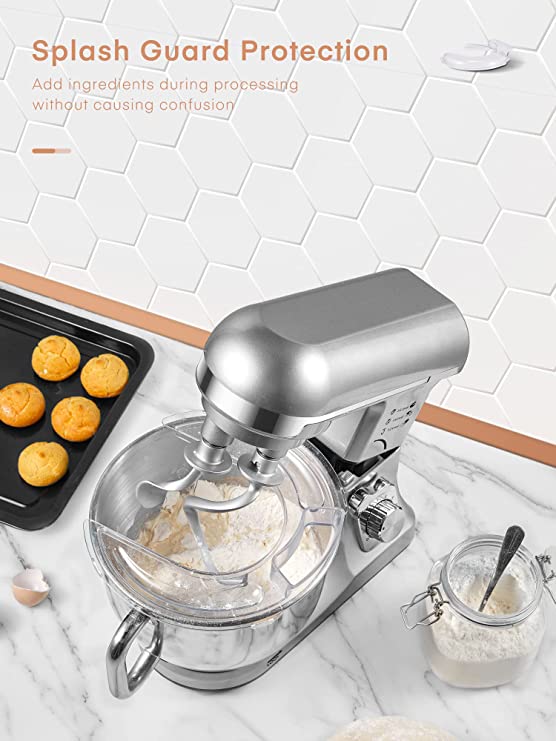 Easy to use.
It's perfect for one or two people.
I love this works very well
I wish I had gotten this a long time ago the hard mixer is ok but this is faster and better
Stopped working
I bought this item in March and is now May and it stopped working. Not worth it
Muy buena calidad
Love this works great even got one for my daughter
Really good appliance
Its so easy to use and to clean
Easy to use.
It's perfect for one or two people.
I love this works very well
I wish I had gotten this a long time ago the hard mixer is ok but this is faster and better
Stopped working
I bought this item in March and is now May and it stopped working. Not worth it
Muy buena calidad
Love this works great even got one for my daughter
Really good appliance
Its so easy to use and to clean